Zoo Feeds Live Donkey To Tigers As Visitors Watch On In Horror
I can think of a bunch of ways I'd rather go than being thrown into a moat full of tigers at a zoo without any way of getting out.
Throw me out of a plane, hit me with a bus, I'll take just about anything other than being fed some hungry cats in the middle of the Changzhou zoo with a couple of hundred people watching me.
The video below is one of the ones where I'm going to have to say, proceed at your own risk. The video kicks off with the zookeepers / shareholders, all wearing pink raincoats, pushing the poor donkey down a ramp and off a ledge to land with a splash in the moat of the tiger enclosure.
A tiger does what tigers do to live prey and jumps onto the back of the donkey while it's still swimming along and starts to take a few bites out of it's back, neck and head, pawing all the while at the poor b*stard's head.
The donkey kicks and kicks (f*ck you, nah, f*ck you), even landing a shot IN THE FACE of one of the tigers, but it's all in vain. These are four hungry giant cats that won't be denied.
According to the BBC the zoo said the shareholders had tossed the donkey to the tigers "in a fit of rage", and apologised to the public for the incident.
The shareholders were apparently "filled with anger for a long time" as they were unable to receive returns on their investments, and were also upset about a number of animals' dyeing at the zoo (seems a bit like a double standard).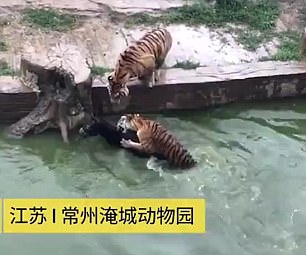 Eventually, it all gets a bit too much for the donkey, even though he's put up a pretty good fight so far to swim away. He gets dragged away by the neck as he tries to get away from the hungry cats.
Two of the tigers even end up double team biting it on the head to dispatch the donkey, and the tigers roar and growl as they start to chow down on their prey.
The video then cuts to show a pool of blood after the tigers have had their meal. Pretty bloody gnarly – pardon the pun.
Check out the video below if you feeling up to it…