Sports Illustrated release UFC fighter Paige VanZant's saucy photoshoot
You might remember a while back, we told you about UFC fighter Paige VanZant planning to make the leap from the Octagon to the glossy covers of Sports Illustrated Swimsuit Edition. The time has come for her magazine issue to be released to the world and can I just say Paige has done a tremendous job.
But I know that's not why you folks are here ay. In the swimsuit edition of this illustrious magazine, it is, as the name suggests, all about the swimsuits. The bikinis, the budgie smugglers, the bathers, and the togs.
Paige begins with this lovely little lavender number, in the iconic triangle bikini two-piece design: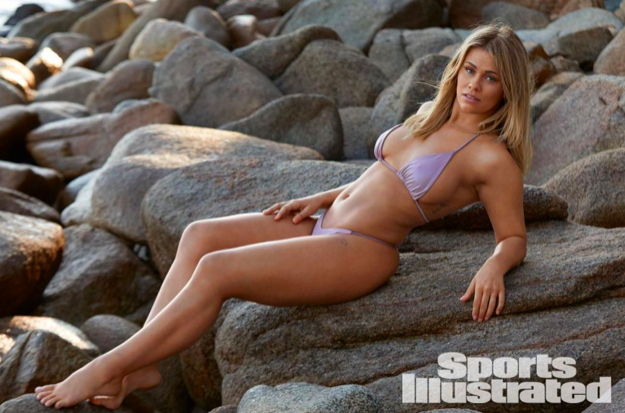 Bit of innovation here with cheeky cut outs below the bust. Looks very inspired, but the tan lines she'd end up with after a day in the Ozzy sun can get f**ked. Poor PVZ would end up with two arrows pointing up at her nips.
Moving onto this botanical number, the green foliage print gives a nod to the environment, and just how lucky that bloody rock is to be in the environment. At this very moment. Under that 'environment.'
Paige is the ultimate professional, tackling a blowy onshore wind without missing a beat.
Up next is a couple of cossie's that have clearly been constructed in an attempt to decrease the impact that disposable fashion has on nature. There was zero fabric wasted when putting these together… Every last scrap was used, even recycled some dental floss.
This really is the epitome of the classic white teeny weeny bikini. Some s**t looks so good that it never goes outta style.
Paige proves that she is a jack of all trades, thrashing her opponents in the Octagon and then looking like a stunning and professional model that has been working the camera for years. Good on her I reckon.
Final Thought:
Paige has done really well for her first professional photo shoot I reckon. She joins Sports Illustrated royalty such as Chrissy Teigen and Kate Upton, and I reckon Paige gives them a run for their money!
But Paige certainly doesn't deserve all the credit. I'd imagine a lot of blood sweat and tears goes into designing for the fashion industry, and Paige should be grateful that she was giving a bunch of schmick lookin' togs to wear and make her look so good.
H/T – Barstool Sports & Sports Illustrated
All Pictures Courtesy of Sports Illustrated Swimsuit Edition