"Half Human Half Lamb" Baby Has Horrified South African Villagers
In the last few days we've had a report of a guy getting it on with crocodile while on a meth binge. How appropriate then that this next story involves witchcraft and the unholy union between man and sheep.
Okay not really, but that's certainly what locals from Lady Frere in South Africa thought when they were presented with this monstrosity. You can just imagine the awkward village meeting, where one of the elders proclaimed that someone must've had sex with a sheep.
Chief Director of Veterinary Services, Dr Lubabalo Mrwebi understood why locals might've believed it was part human. He agreed that at a glance, it did have human characteristics, but also expressed that he was certain it was not part human. As humans have 23 chromosomes whilst sheep have 28, a hybrid is entirely impossible.
According to doctors in the region a disease called "Rift Valley Fever", which sounds more like a dance craze than a serious disease, was the likely cause of the birth abnormality.
This isn't the first time superstitious locals have lost their sh!t when an animal with a deformity has been born either.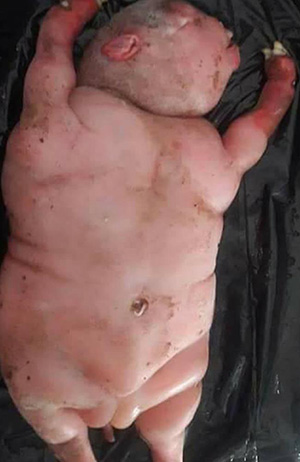 In 2015 a lamb with a human looking face was born in Russia. After growing for a few months, it reportedly started running around telling kids to get off its lawn.
In this more recent case however, the lamb was still-born. Whilst most of us in modern societies understand what a deformity is, many members of this community were clearly freaked out, with some even believing it had been 'sent by the devil'.
Many locals are now waiting for confirmation from vets that it is, in fact, a deformity. Obviously, it being sent by the devil is an equally possible explanation. It's always good to have peace of mind when it comes to these things.
H/T: Daily Mail