This Vegan tourist ordered a salad and it might be the worst bloody meal ever
There's nothing worse than a disappointing restaurant meal.
Sadly, for two British girls on holiday in Southern Spain, they got exactly that. And the internet is having a field day.
First of all, let's have a look at what happened.
It all transpired when the two sisters from Leeds in the UK, Gabbie and Georgina, had worked up a mighty hunger from a day of basking in the sun on the Costa Del Sol.
So, vegan Georgina, who there is no evidence to suggest has always been the difficult one, asked the staff at their restaurant if they served vegan food.
Of course, the staff were like, "hell yeah, sister. We've got some bonza vegan dishes. Come in, come in."
Georgina was probably like, "sh*t yeah, hook a sister up," right before she took her seat and waited patiently for her delicious vegan meal.
As you guessed, her meal was more than a little disappointing – and let's be honest, piss-funny in a totally not cool way.
When it was delivered the two girls couldn't believe what they were seeing. I'd call it a dog's breakfast, but my dog wouldn't touch that!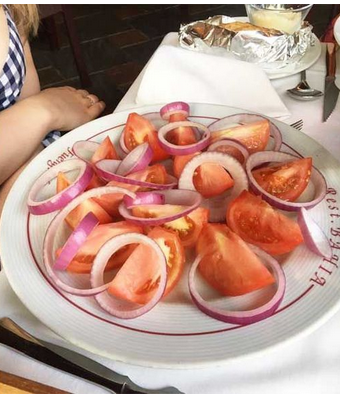 Yum!
Her meal consisted of Spanish onions and tomatoes. Can't see what she's complaining about really. Looks pretty bloody good to me. My guinea pig would love it.
Fortunately, the girls had a sense of humour about it – and poor old Georgina was so hungry she smashed it anyway. Talk about a good sport.
Younger sister Gabbie took a quick snap and uploaded the delectable dish onto twitter where the photo has racked up more than 50,000 likes and 12,000 retweets.
Have a look at some of the responses:
Of course, contrary to popular belief, vegan food has really stepped up its game in recent years. When dishes like this are the competition, you can understand why the girls were a bit bloody shocked:
Someone get Gordon Ramsay in there to sort them the f*** out!
H/T: LADbible and Gabbie Jarvis.