This Skittles Mother's Day Commercial Is The Grossest Thing You'll See All Day
For Mothers Day, Skittles released another ad and it's another doozy. Remember that ad where that guy is diagnosed with a weird illness where everything that he touches turns to skittles? And the ad where a married couple is having sex and when he goes for his money shot… which is just a stream of skittles that goes all over her face? That last one was banned, and rightly so I thought (it's on Youtube so who cares).
Well they have done it again, but this time it's a bit more cringey and a lot less funny. A son and a mother are on the couch and enjoying some skittles, which sounds normal. However the son isn't eating them, he is just guessing the flavour of the Skittle that his Mum just ate. But how?
Well it's revealed that they are still joined by the umbilical cord. Yes, the umbilical cord that should have been cut some 30 years ago. It's not just the son who enjoys the little game they are playing, but the mother too. And they have done something to the man's eyes so he looks even more creepy. I don't think any fans of Skittles will be put off by the ad – I think Skittles fans are actually probably attracted to that type of comedy.
It looks like brands are starting to think outside the box this year when it comes to marketing to the younger generation through social media. For example Wendy's have been quite savage on Twitter, and more and more companies are following suit. I say good on them – there has been a whole swag of companies that have tried to reach out to the younger generation and failed miserably.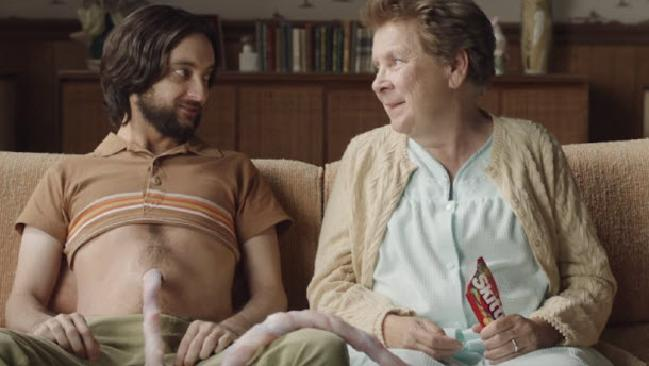 Check out the ad here: