Ozzy Man Reviews: Trump's Handshake Wars
Me commentary on Trumpster's handshake domination.
By Ozzy Man Editor in Chief On March 14, 2017
You may also like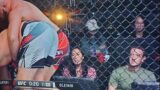 642 Views0 Comments
As you all know, the Zuck is now a big fan of the UFC, and that's got tongues wagging. After all, if robots can start emulating UFC fighter moves, we might all be in deep s**t. Yeah, nah, joking, but we dunno, maybe n...