Ozzy Man Reviews: Deadpool [Spoilers] + Loot Crate Unboxing
Me critical analysis of Deadpool. Get involved with Loot Crate ey! Music from Deadpool OST. DMX – X Gon Give It To Ya
http://www.lootcrate.com/ozzymanreviews
Use the code "ozzyloot" for 10% off your subscription.
By Ozzy Man Editor in Chief On March 13, 2017
You may also like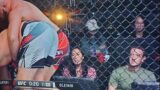 213 Views0 Comments
As you all know, the Zuck is now a big fan of the UFC, and that's got tongues wagging. After all, if robots can start emulating UFC fighter moves, we might all be in deep s**t. Yeah, nah, joking, but we dunno, maybe n...