Ozzy Man and Mozza: Drunkest Guy Ever
Me mate Mozza and I commentate the drunkest guy ever trying to buy more beer. Bloody intense shit.
Unedited 11 minute source video is here: https://youtu.be/Z2XeVs4wqdE
Music:
Hans Zimmer – The Rock Main Theme
Fair Dealing – parody, satire, commentary, review.
By Ozzy Man Editor in Chief On March 14, 2017
You may also like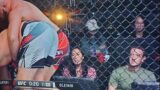 639 Views0 Comments
As you all know, the Zuck is now a big fan of the UFC, and that's got tongues wagging. After all, if robots can start emulating UFC fighter moves, we might all be in deep s**t. Yeah, nah, joking, but we dunno, maybe n...