Bloke Refuses To Stop Smoking While Pumping Fuel, Employee Has Perfect Solution
I just absolutely love it when smokers are the butt of a joke. That's what makes this video so bloody good. It's filmed on security cam from a service station and it's believed to be from Bulgaria.
Now, if there's one thing we all know about service stations it's that you don't smoke, you don't strike a match and you don't use your mobile phone. There's petrol fumes, gas fumes, all sorts of fumes – and while the chances of a spark igniting them are probably fairly minimal, it's just seen as good bloody manners to avoid those activities and, you know, risking the possibility of turning the entire servo into your own tribute to the cover of Rage Against The Machine's debut.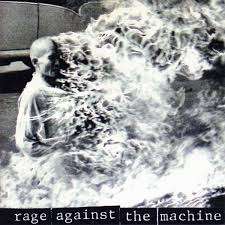 Every now and then you might hear the servo attendant's voice on the PA telling some wanker to get off his phone or put out his cigarette. Most blokes go, 'oh, shit. Sorry, bud' and quit it immediately.
Not the guy in this video though. He's got a bloody apt cap on (it spells DOPE) and he's just nonchalant as f*** about smoking that dart. You can see him getting out of his car and taking a drag like he's totally OK with immolation and a fiery, fiery death in a blazing inferno before he grabs the nozzle and just starts filling up the tank while he's smoking.
By this point, the attendant must have said something because he is on the case in zero seconds flat. He just f*****g walks out, grabs the extinguisher and douses the flame and the smoker's ego in one fell swoop.
Have a look at him.  This is a man with absolutely zero f***s to give.  Point.  Blast. The car door's open. The other dudes inside get drenched in fire retardant, there's a guy looking on awkwardly, the cigarette is now soggy as f***, there's mist and fumes, the inside of the car is clearly a mess.
You know what. I like this attendant. I'm guessing he warned the guy. I'm guessing he said, 'mate, put out the fire hazard or I will be forced to act.' And act he did. Good on him. That f***-knuckle of a smoker certainly deserved it. He probably deserves an award too. What a f***-knuckle!
H/T: Bored Panda.