Jon vs Ramsay [Extended Edition]
Spoilers! Just a few little tweaks there You can use it for the Blu-Ray release HBO.
Drop Zone OST – Hi Jack
By Ozzy Man Editor in Chief On March 14, 2017
You may also like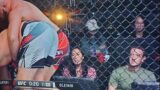 642 Views0 Comments
As you all know, the Zuck is now a big fan of the UFC, and that's got tongues wagging. After all, if robots can start emulating UFC fighter moves, we might all be in deep s**t. Yeah, nah, joking, but we dunno, maybe n...